MOT emission testing for kit cars

Recently, there has been some confusion as to what emission test a kit car should pass when presented for annual MOT inspection.

After consulting a MOT inspector that does know his stuff, I'll do my best to explain it here.

On presenting you vehicle for MOT, the Tester will put your vehicle registration into the computer, this is "on-line" to the DVLA, and will print out a "Test Sheet" that is relevant to your vehicle.

If your kit car has been through SVA/IVA then the figures that it needs to be tested to will be printed on the sheet, these will be the same as it had to pass at SVA/IVA. End of story!

If your kit car was pre-SVA then there shouldn't be any figures for emissions on the sheet. Now the tester has to decide what he's going to test it to, and if he doesn't read his manual properly, then he'll miss the vital piece of instruction about testing kit cars.

This is the page he needs to study.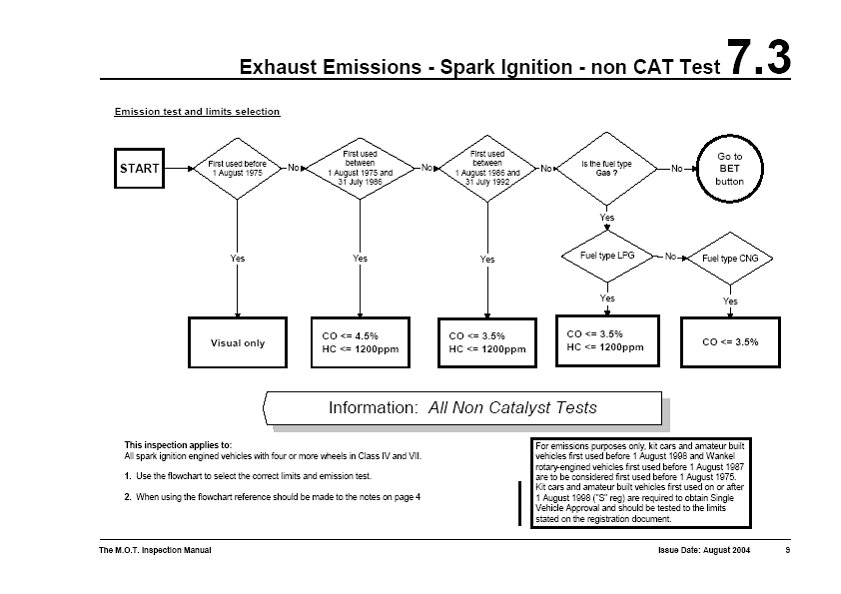 The highlighted box, down to the right-hand side is the main instruction about testing kit cars. The bit that we're interested in says:

"For emissions purposes only. Kit cars and amateur built vehicles first used before 1 August 1998, are to be considered first used before 1 August 1975"

Now if your kit car was not SVA'd then it was probably given an "age-related numberplate" and this should both show on your Log-book as the date of registration, and more importantly, it should show on the Testers, Test sheet, as "Date first used"
This is the date that applies for the emissions test, not the date that the kit itself was registered.
Providing this "Date first used" was before 1 August 1998, then it has to be considered first used before 1 August 1975, which if you look at the first diamond on the chart, is Visual smoke only.

"Q" plates, not gone through SVA, unfortunately I believe have to be tested on the date of kit registration, as there will be no "First used" date. (UNLESS IT SAYS DIFFERENT ON THE LOGBOOK! As my Jeep, said 1971, although a 1987 registered kit)

I can't stress enough, that MOT stations who are not used to testing kit cars will probably not get it right, so if you believe that yours is only "visual" and he wants to actually test it, then ask to see the test sheet, look for the "first used" date, not the date of registration (they are both on there!)