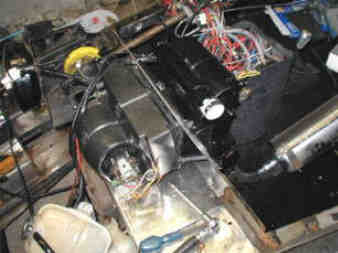 I did the same as Ian with the "sink drain pipe" and mounted the heater "upside down" into the firewall by using the flange on the unit itself. Control of the flap & water on/off are by 2 "hard wire" choke cables. a 3 way switch for the fan speeds.
I myself have one of these heaters in my Mark 3, and can if I need to, drive with lovely warm legs even in the winter, without the hood on the car. They are a really good heater, and can be recommended. These are a couple of photo's of when I fitted the Polo heater.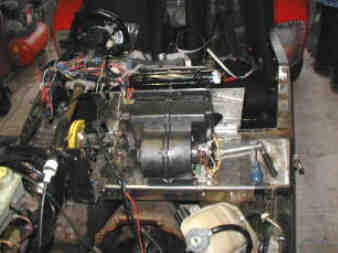 A number of people seem to have difficulty in wiring the heater up, so these are the connection and what they do. It's a good idea to check the heater when you've taken it out of the Polo to see that the various speeds work, as the resistor wire that is lapped around the block can corrode & fail, making either the 1st, or 1st & 2nd speed inoperative.
you can see 3 connectors coming from the block (we are only using 2 on this application) The connector on the far right, (with the red wire to) is the "full speed" or 3rd speed, this is wired directly to the motor, so if the fan won't work if this is connected, the thing is U/S. the middle connector, (with the blue wire on) is the 2nd speed, and the one on the left (not connected) is the "slow" speed.
The connector slightly lower down, in it's own shroud, is the earth (black wire connected)